Well...It's me, Alien. 
Alien am not an eggplant. 
Alien came to Arashiyama, Kyoto for seeing fall colors. 
This is a famous bride called Togetsukyo. 
Weather is nice. Let's explore. 
Alien first went to Tenryuji (Tenryu Temple). 
Everywhere in Arashiyama was crowded in this season.
Alien paid 500 yen to see their garden. Let's go. 
Red leaves and blue sky. 
Beautiful. 
It is also nice to look at leaves closely. 
Interesting shapes. 
Banboos and red Japanese maples together are beautiful as well.
This garden is kept very well.
It is also nice to look at a fallen leaf. 
Green moss, a white rock, and a red leaf. 
The garden has a nice pond.  
The temple and garden are a world heritage! 
Alien enjoyed the garden. Let's try another temple to see more fall colors.
Trees on street are also beautiful. Alien can't stop taking photos.
Like this. 
Like this. 
And like this. 
Alien want a better camera! 
Alien passed through "Bamboo Street" on a way to Alien's next destination. 
Bamboos are planted on both side of the walk street. 
The owner must keep the bamboo forest beautiful. Nice rays of sun light. 
Dignified beauty, which is different from beauty of fall colors. 
Alien is now at Jojakkoji (Jojakko Temple). 
Admission here is 400 yen. 
Hello!
Let's see fall colors here. 
Darker colors. 
Subdued. 
What? 
Lots of leaves fell already.
It was a bit late to enjoy fall colors here. 
There were still some coloful trees. 
Beautiful gradation. 
Temple and red leaves. 
That's Japan. 
What? 
That's 21th century. 
Where should Alien go next? 
The place called "En-lien"? 
That sounds very familiar. 
Let's go there! 
Alien came to En-lien. 
This is a place where Ogura Hyakunin Isshu (Ogura Hyakunin Isshu - Wikipedia) were selected. 
It opens to public only during fall colors season. 
Let's get inside. 
Wow it is like a hiding place. 
Alien paid 500 yen admission and got inside. 
Vivid fall colors welcomed Alien. 
Wow that's amazing. 
A Japanese house was there. 
Hello! This is Alien.
Inside of the house.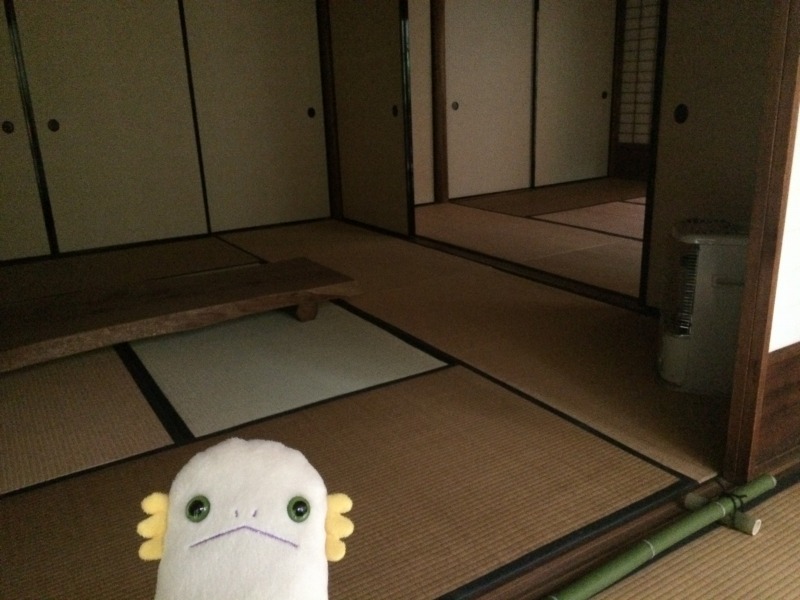 A traditional Japanese house. 
Let's see the garden. 
Great tree. 
Beautiful gradation. 
This place is smaller than famous temples, but Alien liked it. Nice and calm. 
Hello Mr. Tanuki (Racoon dog). 
Alien know Tanukis can transform into anything when they put a leaf on their head.
What will you become?  
It was a bit late to see fall colors but Alien enjoyed Arashiyama.
Let's go back to Osaka now.  
What? 
Mikami (Hair) Shrine...? A shrine for hair! That's so rare. 
Let's pray. 
Please give Alien fluffy and poofy hair. 
Websites:
Tenryuji
Bamboo Street
http://www.japan-travel-navi.jp/kyoto/spots/rakusai/chikurin/
Jojakkoji
En-lien
https://kanko.city.kyoto.lg.jp/detail.php?InforKindCode=1&ManageCode=1000265
K.