Well...It's me, Alien. 
You say Milwaukee, Alien say beer. 
This is a story of summer this year.
Alien went to Milwaukee Ale House, a restaurant that serves many good beers. 
You can drink beer produced by Milwaukee Brewing Company. 
This is a good place for people who visit Milwaukee for the first time (as well as local people, of course). 
Alien found a bar space. 
Alien am hungry today. Let's go to their restaurant space.
Alien found a nice space for beer and foods. 
Where are other customers? 
Many of them are sitting outsite. Let's have a table outside.  
A nice view of riverside. 
Ships pass by sometimes. 
People in Milwaukee enjoy summer at their best. Summer here is short. 
What do Alien want to drink? 
Many local beers. 
Alien chose Louis's Demise, $5. 
Deeply roasted but easy to drink.
This is a flagship product of Milwaukee Brewing Company. 
Let's order foods. 
Their foods go well with beer. 
 Alien ordered this.  
Nacho!
Alien added beer cheese for $1.5. This dish was $10.5. 
This Nacho is Alien's favorite. A lot of toppings! 
This is meat loaf, $15. 
A big slice. 
Many kinds of spices in it. Yum. 
Let's have another glass of beer. 
This is wit, $5. As the name tells, this is a wheat beer. 
Light and easy to drink. 
Alien nicely got drunk. It was getting dark outsite. 
Night view is also good. 
Let's go home. 
Whoa, karaoke is going on at the stage.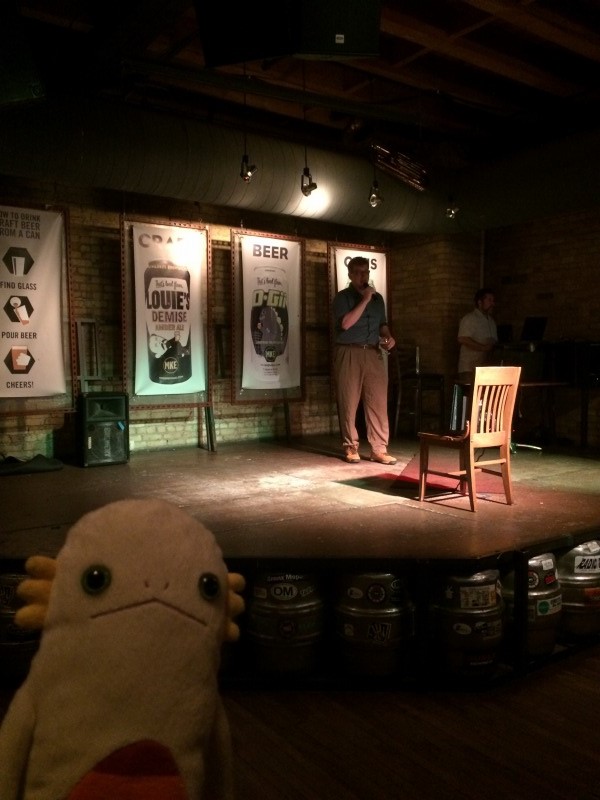 Alien must join!
La la la la la~ 
Their website:
K.