Well...It's me, Alien. 
Bath time. 
Alien came to Hakone-Yumoto.  
A popular hot spring spot. 
Let's go to the hotel Alien booked. 
A lot of nature. refreshing. 
This is Tsuki no Yado Sara, a ryokan (Japanese-style) hotel. 
This is a new one! 
Alien checked in and went to the room.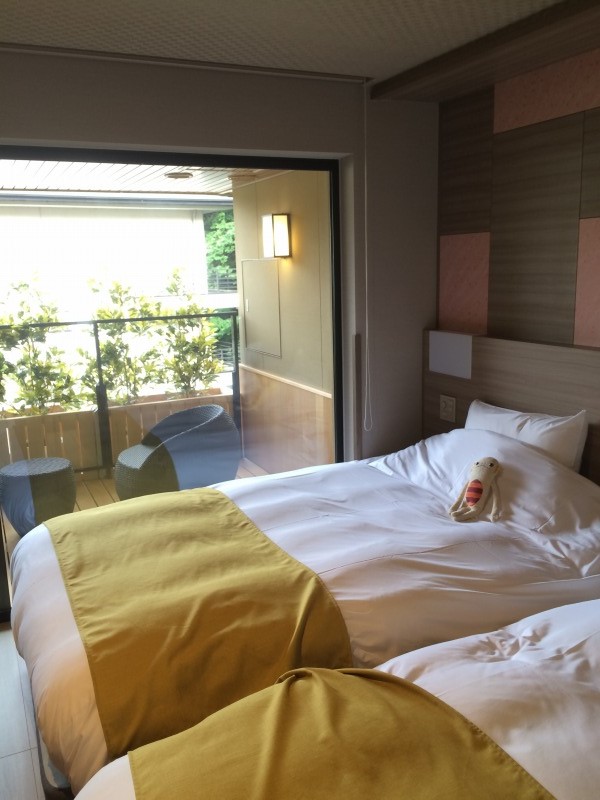 A nice bed. This is a Japanese-style hotel but offers beds. 
Let's enjoy bath time first. 
Alien put yukata (summer kimono) on. Let's go! 
This is a private bathroom. 
Anyone can use it if nobody is in. 
Free milk and coffee for customers! 
Great hospitality. 
Alien went to their garden on rooftop. 
Mountains. 
Wow there are free drinks here too.  
Alcohols! 
It is time for dinner.
Let's go to their restaurant.  
Menu. So many kinds of dishes are waiting for Alien...!
Appetizers. 
Pretty moon-shaped plates. 
Let's have sake. It's all-you-can-drink! 
Very Japanese. 
Dishes are coming in! 
Yummy liquid. 
Fresh sashimi. 
...and shabu-shabu (hot pot with paper-thin sliced meats)! 
You can have another plate of beef if you request. 
Alien requested it, of course. 
And desserts. 
 Alien am very full! 
Let's take a bath again. 
Another private bathroom. 
Alien enjoyed their big bathtub and open-air bath too. No photos of public bath though.
Let's have beer (it was also free). 
 Phew. Am Alien in a heaven? 
Well...Alien am a bit hungry now. 
Let's have a yonaki-soba! This is another name for ramen. 
Free beer here too. 
Alien am in a heaven for sure. 
This is their yonaki-soba. 
Light taste ramen. Good for mid-night snack.  
Alien am satisfied. Let's go to bed. 
 ...Good morning! 
Breakfast time.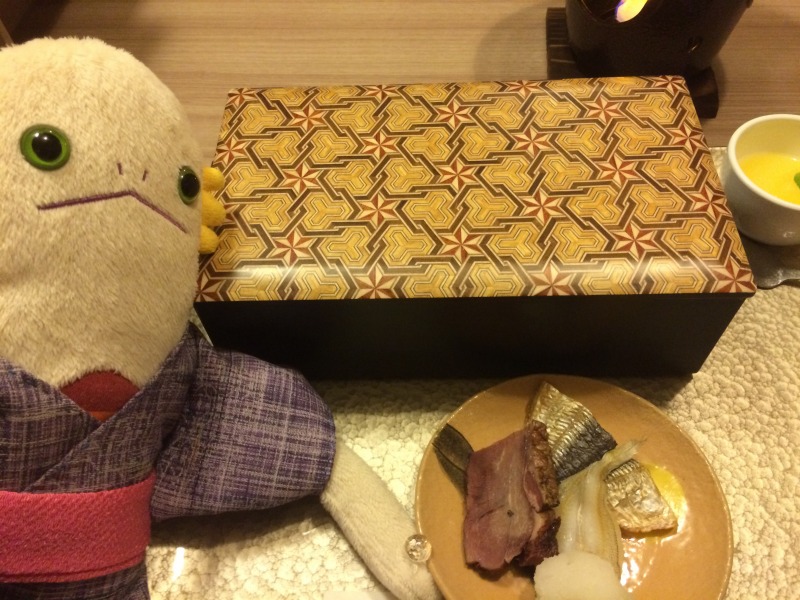 What a pretty box. This is Hakone's traditional art called yosegi-zaiku. 
Many kinds of foods. 
Great breakfast. 
This is a main dish.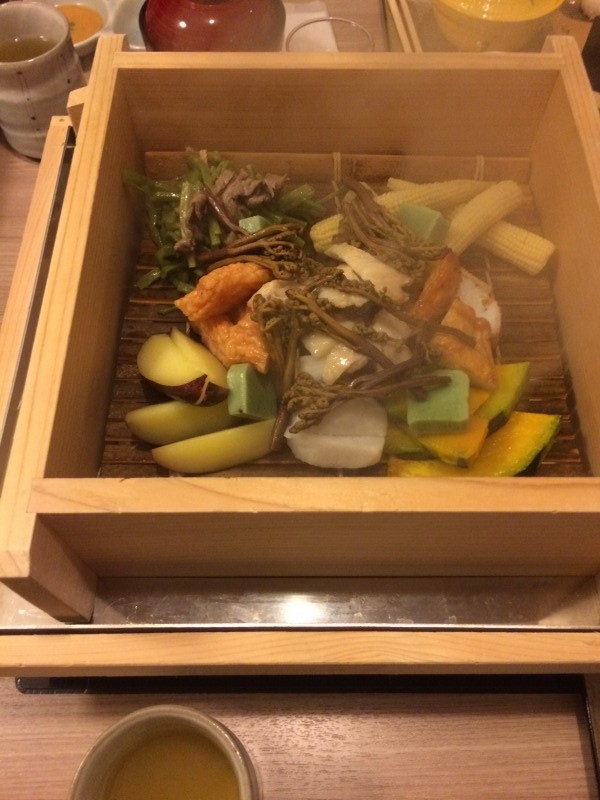 Steamed-vegetables and deep-fried fish paste (very popular food in Hakone area). 
It was a great ryokan. Alien enjoyed it very much. 
Well...Alien want to do something before going home. 
Alien came to Honma Yosegi-zaiku Museum.
Visitors can make a yosegi-zaiku art here. 
They let Alien pick materials for a beverage coaster.
Which one is good for Alien? 
Alien picked one. Let's think how to put all parts together.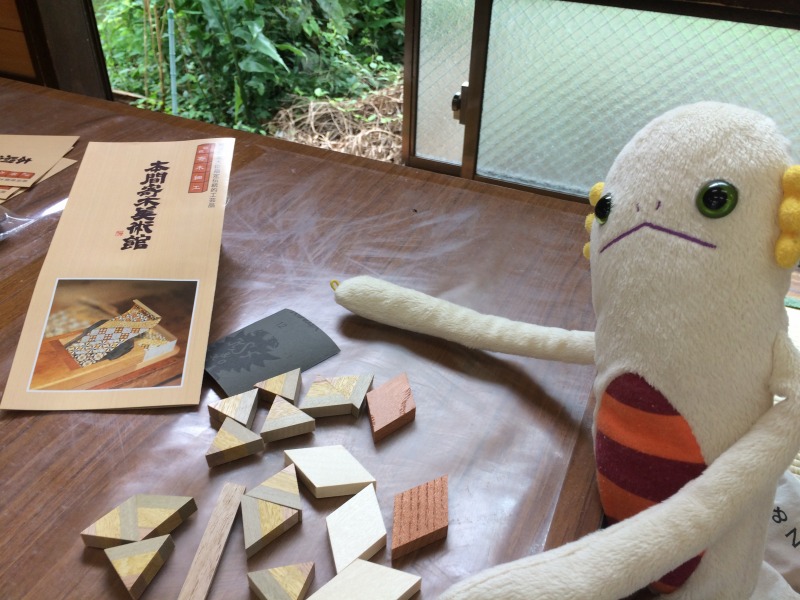 There were samples but Alien wanted to make an original design. 
How about this? 
Or like this? 
Like this? 
…Alien decided! 
Alien like this. Let's do this way. 
Let's put them together with glue. 
Alien cleaned the extra glue. 
Alien let it dry and polished. 
Be smooth! 
Alien then varnished it. 
Be shiny! 
Done!
Yeeeees! 
A guy at the museum said he never saw design like Alien's.
See? Alien have a special sense that nobody on the earth has! 
Their website:
Tsuki no Yado Sara (Ryokan hotel)
http://www.hotespa.net/hotels/sara/
Honma Yosegi-zaiku museum 
K.