Well...It's me, Alien. 
Encountering new foods. 
Alien found a sign in Milwaukee downtown. 
Ethiopian restaurant...? 
Alien haven't experienced Ethiopian foods yet. 
They have lunch buffet.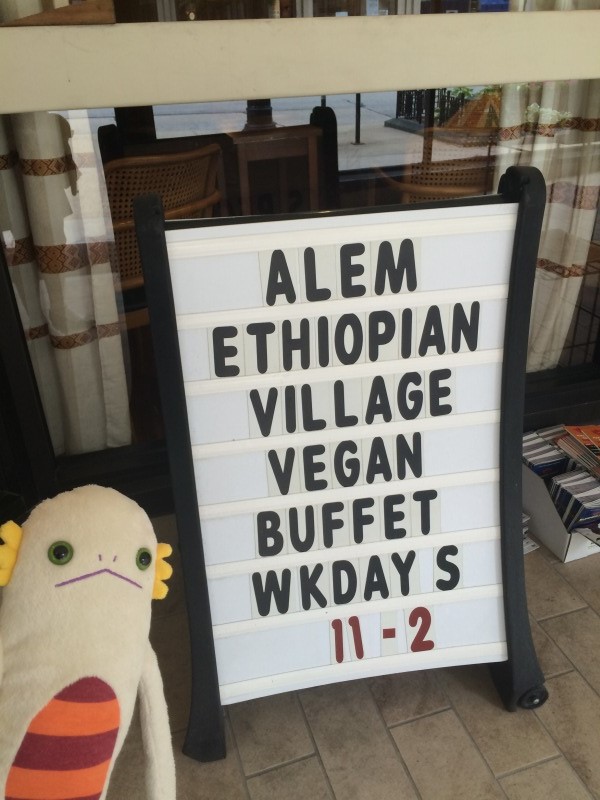 Let's try! 
There are many probably-Ethiopian pictures inside. 
Huu very Ethiopian. 
Is it a table? 
Very colorful. 
Let's have foods. 
It is difficult to tell flavors just by looking.
Salads. 
Let's be healthy. 
And this is Ethiopian staple food called injera. 
It looks like a used towel... never mind. 
Let's eat. 
Each dish was yummy. They tasted like curry. 
Injera tasted like a very thin and moist sour bread. 
Let's eat more. 
Alien's favorite was poteto and veg one. Curry-flavored and yum yum. 
Oops, Alien must not forget salad. 
Stay healthy. 
Alien ate a lot! Lunch buffet was $8.75. 
Alien used Alien's hand to eat. They serve wet wipes. Nice. 
It was Alien's first experience of Ethiopian foods. Alien loved it.
Let's come back here... tonight! 
Alien went there again for dinner. 
Alien am a fan. 
They don't have buffet for dinner. Let's see dinner menu. 
This samplers sound good. Alien want to try many kinds. 
Vegietarian samplers, $32.62 for two people. 
Huge. 
Let's eat. 
A large sheet of injera was underneath. 
This plate was a vegetarian one. Alien enjoyed many different flavors of vegetables and spices. 
They served injeras in a basket with the samplers.
Alien already had a lot of injera on the big plate... couln't finish them all. 
Ethiopian foods were good for both lunch and dinner!
Their website:
http://www.alem-ethiopianvillage.com/
K.